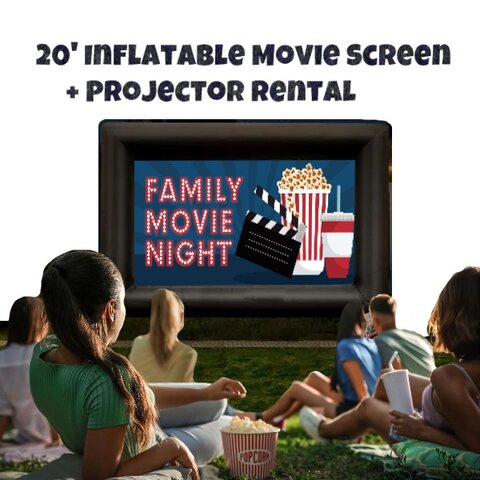 Movie screen with projector
It's football season! Hosting a game night with a 20ft big screen and high-tech projector would be the best idea to enjoy with your game enthusiast folks. Bounce Ocala Party Rentals brings you a movie screen with a projector rental.
Host Your Outdoor Movie Event with Ocala Premier Inflatables LLC.
Offering the best movie theater package in Ocala, Florida. Host your outdoor cinema with our HD projector, 20ft big movie screen, and sound system. This high-end portable movie screen and projector package is also suitable for slideshows, and films for your corporate events, weddings, and other business events.
Get the High-end Screen and Projector Rental in Ocala Florida
Our portable movie screen and theater rental can be installed indoors and outdoors. It's a perfect fit for multiple locations including auditoriums, basements, auditoriums, vaulted ceilings, conference halls, and gyms etc.
You should always have a backup plan if you're hosting outdoor screening as there is a cancellation policy in effect on all party rentals in case of bad weather conditions.
Disclaimer: We don't rent movies. It's up to the renter to obtain movie and screening permissions. We don't recommend nor are we responsible for downloaded streams, or any 3rd party programs.